At IODA SRL every customers' not ordinary needs turn into an ambitious challenge that leads us towards continuous innovation and to design very special solutions to same unusual requirements.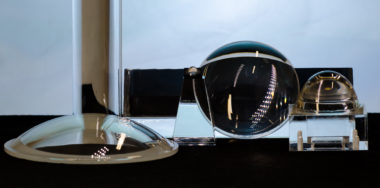 Starting from this natural inclination to satisfy customers'special needs, we develop the REVO-01 project created in collaboration with the best partner on the market: Mitsui & CO. , LTD – manufacturer of monomers and polymers.
REVO-01 is a polyurethane material commonly used in the ophthalmic sector, but we at IODA SRL have modified its chemical composition to make it suitable for the production of lenses for lighting systems.
This particular use of polyurethane in this field allows us to create lenses that not only boast advanced optical properties, but are also ultra light and with excellent mechanical characteristics and therefore well suited to lighting design even outdoors as it is not degraded by U.V. light present in the environment.

REVO-01 stands out for:
Excellent optical characteristics, high transparency, high Abbe number and high refractive index.
Excellent mechanical properties, excellent impact resistance, mechanical workability, strength and very high resistance to chemical agents (resistant to solvents such as acetone, benzene and ethanol).
Excellent resistance to high temperatures: with the lenses in REVO-01 it is possible to push up to an operating temperature of 110 ºC, while with the lenses in PMMA or polycarbonate it is advisable not to exceed 75/ 80 ºC operating.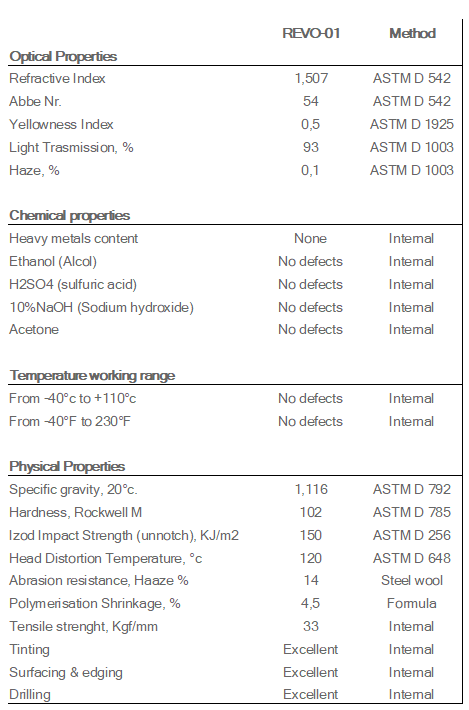 – TRASMITTANCE –
This material allows us at IODA SRL to create new shapes at low cost and in less time so that we give an instant and dynamic response to a special need of the customer.