Customized cylindrical lenses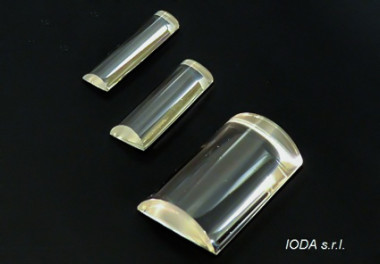 IODA has developed a particular design and production technology by which is able to produce several cylindrical lenses "customer request" with base dimensions of ache very large also the lenses may have a flange to facilitate installation in a seat or a support .
The material can be mineral (borosilicate glass) or REVO-01,polyurethane material Link REVO-01
IODA has developed a new polyurethane material, called REVO-01 which produces the world dedicated to lighting lenses.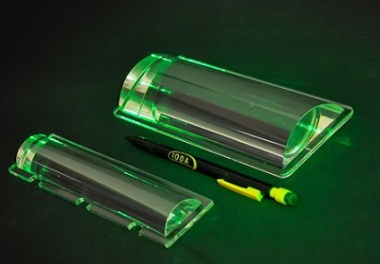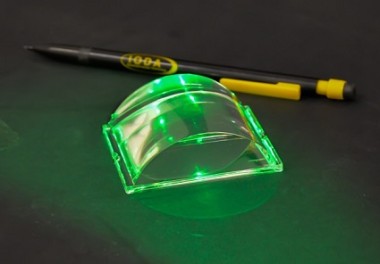 The cylindrical lenses are constituted by a flat surface and a cylindrical surface which develops along a single axis, can be both positiche and negative (convex plane or concave plane).
The cylindrical lenses are used in the generation of optical lines (if positioned after a collimator or after a collimated laser beam) or in the anamorphic correction of optical beams of spherical type.
If the distance between the LEDs and the flat base of the lens is equal to the focal distance, the light passing through the cylindrical lens expands in a single axis (projection of a line of light).
Some models already made:
- CL-R6/52 Radius convex 6mm; Lenght 52mm; Focal lenght 8.6mm; Material REVO-01
- CL-R8/52 Radius convex 8mm; Lenght 52mm; Focal lenght 10.7mm; Material REVO-01
- CL-R15 36X50 Radius convex 15mm;base dimension 36X50; Focal lenght 18.5mm; Material REVO-01
- CL-R30 50X60 Radius convex 30mm; base dimension 50X60mm; Focal lenght 25.5mm; Material REVO-01
- CL-R30 64X164 Radius convex 30mm; base dimension 64X164mm; Focal lenght 25.5mm; Material REVO-01
Contact us for more information