IODA glass free form production line

Since 2001 IODA has a complete free form production line which is updated every year.
Thanks to this, IODA can create special industrial lenses and glass moulds, spheres, aspheres and freeform surfaces or lenses, whose profile is developped by an algorithm.
IODA has developped methodologies and tools for CAD-CAM analysis for geometric modelling and CNC manufacturing.
The Freeform production line could be divided in three grups:
IODA freeform production line consists of three Optotech industrial machines: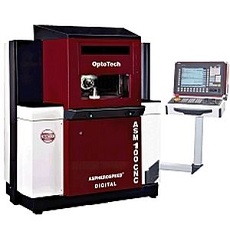 ASP100CNC , ASM100CNC and ASP200CNC.
.
ASM100CNC Grinding and lapping machine.
Flexibility due to 4 CNC axes and an innovative tool concept which can grant a fine grinding of spheres and aspheres with integrated edging.
Grinding of aspheres with peripheral grinding wheel for highest precision.
Working Range Ø 10 to 120 mm (Spherical); Ø 10 to 240 mm (Asphere Mode) .
The two tools follow a CAD drawing with high precision position.
.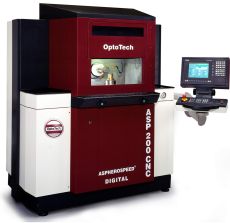 ASP200CNC Pre-polishing machine.
The ASP 200 CNC is a wheel polishing machine for pre-polishing moulds for plastic ophthalmic lenses or industrial lenses.
The unmatched polishing concept with the flexible polishing wheel allows a high precision production of premium glass moulds or special industrial lenses.
The machine works in 4-Axis CNC polishing operations (X, Y, Z, C) , this is the State-of-the-art drive and spindle bearing technology. Spindles with multiple bearings to guarantee a maximun precision guide.
.
ASP100CNC Polishing machine.


.
Optimal machine kinematics for processing aspheres, progressive and free form surface, when highly reproducible results are required, thanks to the vertical tool spindle, using a flexible surface polishing tool or a topographic correction polishing tool.
With this machine we can realize a high polishing surface quality. We are exploring new boundaries of lens machining, reaching depths not easy to see in the market, because of its characteristic surface roughnesses.

.
2-Software and knowledge.
.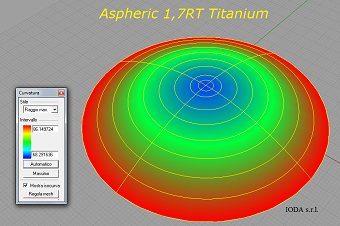 IODA has a technical department, with more than 30 years of experience, who can study the best solution for your needs.
Thanks to the cooperation with the University of Padova, IODA has created a new software called "Ray Tracking" which allows to calculate with great precision the vision ray and therefore calculate the ideal aspheric correction for any application.
We use CAD programs to develop and create a lens virtual profile, and then, create a path for the tool.

3-Measuring.
.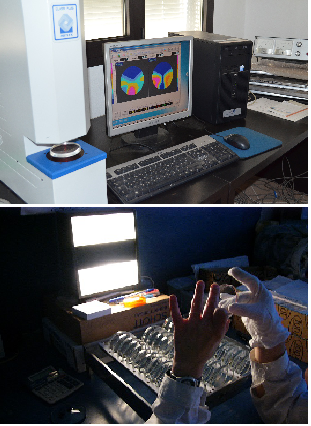 The high precision surface lens needs a refined control system which can check every point of the surface created to guarantee perfect images without loss of quality.
The control system developped by IODA can verify the "roughness" of the surface that has been machined, thanks to microscope, special viewers and highly qualified technicians.
The lens geometric profile is checked with an interferometer test. The upgrade of conventional interferometers is made possible by a phase shifting software for a qualitative analysis of interferograms.
We can develop and check individual parameters for our customers' demands, in order to meet the market needs.
In each lens, you can find all the commitment and knowledge of a company having the quality of its products as its main objective.
Contact us for more information